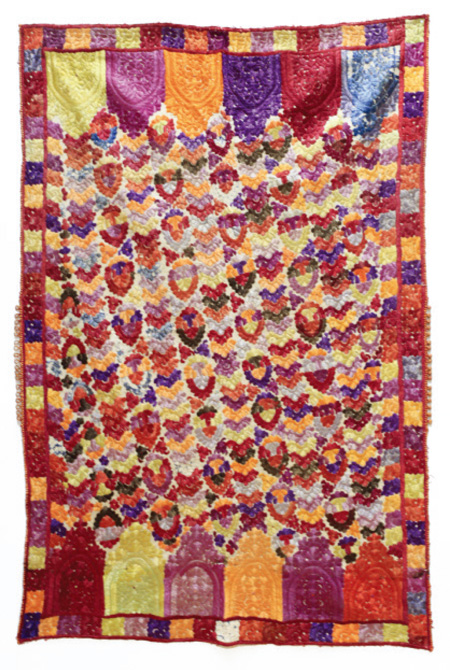 Association Amitiés Tissées
Shukuko Voss-Tabe
Floraison Brodée Embroidered Garden
collection : Tuulikki Chompré, Paris
■ Paris
du 8 au 23 octobre 2016
de 14h à 20h les week-end, sur rendez-vous en semaine
Amitiés Tissées
34, rue Dombale 75015 Paris
www.amitiétissees.com
tel : +33 (0) 6 23 58 28 45
Loin des coups de marteau sonores et des cris retentissants des prestigieuses salles de vente, Tuulikki se promène avec son mari et complice Daniel dans les ruelles des villes, dans les souks, les marchés aux puces et les vide-greniers de son quartier et glane ainsi des trésors textiles venus du monde entier. Son regard tendre d'éternelle jeune fille pétille dès qu'elle repère de beaux tissus. Aussitôt, elle les fait entrer dans sa collection, la Collection Tuulikki, constituée pour grande partie de broderies, issues principalement de la seconde moitié du XIX siècle et de la première moitié du XX siècle, sans souci de hiérarchie.
Cette exposition n'a pas vocation à retracer l'histoire de la broderie. Seules les prédilections propres au commissaire ont guidé le choix des pièces, avec pour fil conducteur, plutôt que la logique des dates et des provenances, l'image de la « Floraison Brodée ».
J'exprime ma gratitude particulière à Françoise Cousin qui a mis à contribution sa connaissance des textiles pour la rédaction des légendes. Mes remerciements vont également à Nathalie Gaillard du musée de la Chemiserie et de l'Elégance Masculine qui m'a fait découvrir la Collection Tuulikki. Je remercie enfin Marie-Hélène Guelton pour les terminologies techniques et Elizabeth Barbosa pour la compétence qu'elle a apportée à la maquette de la présente publication.
---
Far from the sonorous gavel blows and the loud shouts of the prestigious auction houses, Tuulikki wanders with Daniel, her husband and partner in crime, through the narrow streets of towns to the souks, the flea markets and local attic sales, gleaning textile treasures from the world over. With the gaze of an eternally young girl, her gentle eyes sparkle when she spots beautiful fabrics. She immediately adds them to her collection, the Tuulikki Collection, which mainly consists of embroideries, from the second half of the XIX century and the first half of the XX century, in no particular order.
This exhibition does not aim to retrace the history of embroidery. The pieces shown are simply favorites of the curator, selected to fit the image of "Floraison Brodée" (Embroidered Garden) rather than any logic of dates and origins.
I would like to express my special gratitude to Françoise Cousin, who contributed her knowledge of fabrics to the writing of the legends. My thanks also to Nathalie Gaillard at the Musée de la Chemiserie et de l'Elégance Masculine, who introduced me to the Tuulikki Collection. Finally, I would like to thank Marie-Hélène Guelton for her technical terminology and Elizabeth Barbosa for her skill in designing the layout of this catalogue.